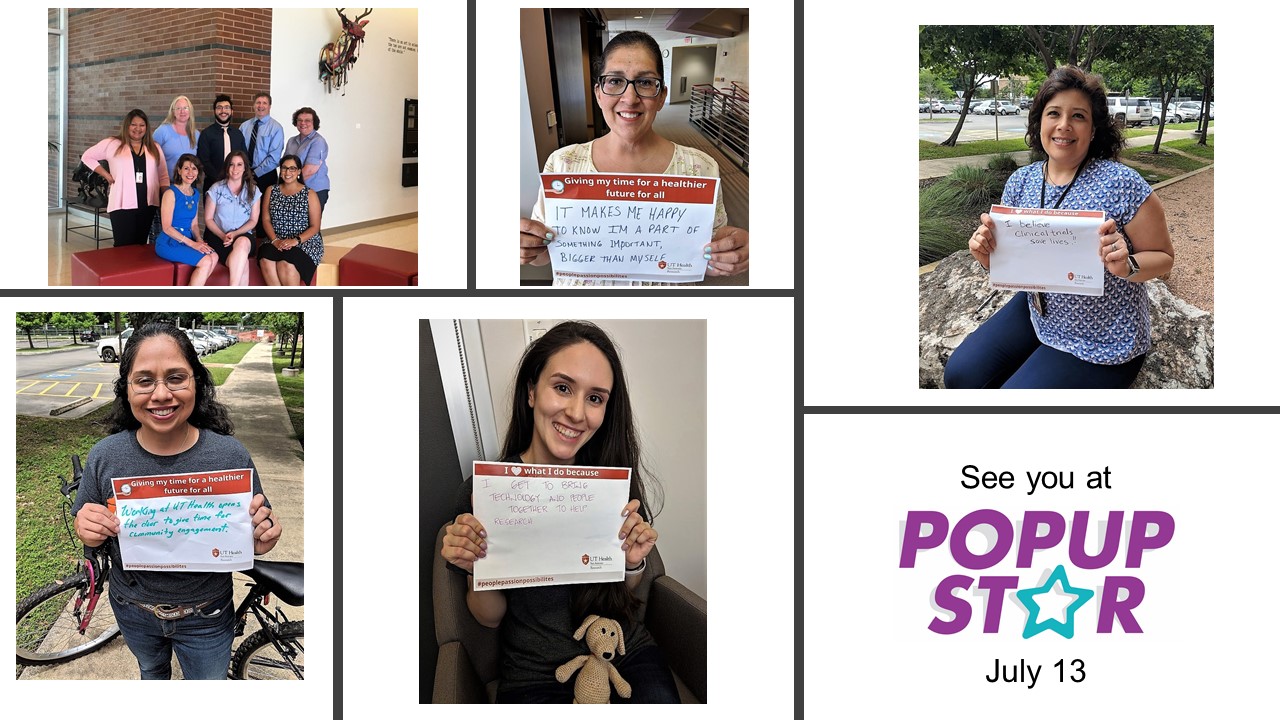 Enhanced efforts to help our scientists tackle issues with clinical trial recruitment are being fueled by a global competition called PopUpStar! Each PopUpStar team has been challenged to create an event in their city designed to educate community stakeholders about the importance of clinical trials in fun and innovative ways.
Join us, the YOUnite Research team at UT Health San Antonio, for this event on Saturday, July 13 at the 40th Annual Women's 5K/10K & Girls Fun Run in the Lincoln Heights Shopping Center and help us cross the finish line and win the competition!
Screenings and education on medical conditions disproportionately impacting the health of our metro area (such as diabetes, mental health and age-related disorders) will be provided by the Schools of Medicine and Nursing, University Health System, the Institute for the Integration of Medicine & Science, Institute for Health Promotion Research, Texas Diabetes Institute, Glenn Biggs Institute for Alzheimer's and Neurodegenerative Diseases and Sam and Ann Barshop Institute for Longevity and Aging Institute. Team members will also explain how FindAStudy can provide access to active clinical trials for those diagnosed with medical conditions as well as healthy volunteers.
At UT Health San Antonio, we currently have 229 active studies lead by our talented researchers and clinician-scientists who devote their careers to innovations that can prevent, treat or cure diseases such as diabetes, cancer, Alzheimer's and many other health issues.
However, the problem that we face is that very few participate in clinical trials, and active studies need volunteers willing to give their time. Nearly 86% of studies do not meet their recruitment deadline and almost 20% close early due to lack of volunteer participation.
"Clinical trial recruitment, a critical component of advancing translational research, continues to be a challenge nationally," shared Joseph Schmelz, Ph.D., assistant vice president for research administration, "so we are excited our YOUniteResearch team is bringing together our clinician-scientists and research staff to directly engage with potential volunteers who can also spread the word to their families and friends."
Participation in the race is not required to participate in the PopUp Star YOUnite Research event.
Social Share